R&R Products in New Zealand – Babeco

R&R Products New Zealand Distribution:
R&R Products also offers the most extensive range of products and equipment for golf courses, athletics fields, groundscare professionals, landscapers and turf professionals – with products such as power equipment, irrigation and water management products, electrical, maintenance tools, groundscare equipment, maintenance facility equipment, health and safety products and much more.
The R&R range of products compliments our own six core product lines we specialise in:
Machinery and parts,

golf course accessories,

groundscare and sports field products,

water management,

coring and renovation products,

and workshop and maintenance facilities equipment.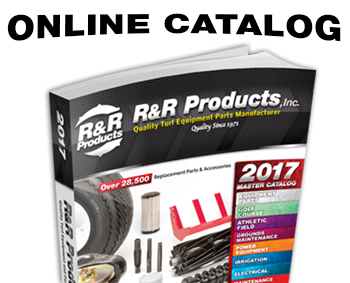 Click Here To use the R&R Products Online Parts Catalogue or Click on the menu above titled R&R Online Catalog for more information.
The R&R Products Online Catalogue gives you complete access to the full parts catalogue and information about the product range from R&R Products.

Using the intuitive search bar you can search for parts by part number, Description, key word or category.

With the Online Catalogue you can look up Schematics on your particular course machinery and equipment. Or build your own list of equipment using the YOUR EQUIPMENT option after creating your very own member login account.

Create your own list or multiple lists of favourite items to quickly find your relevant R&R parts, or review with ease, items you are interested in.

You can request a quote on any items simply by using the add to cart button. This sends direct to us a quote request and we can contact you with pricing and information.
To return to the About Us page click here